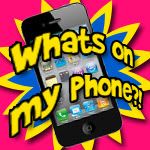 seriously, i think my computer eats all my pictures!
i load like a blue million pics from my phone and always end up with like 5
anywho
lets do it!
if you havent done this
you must!
follow the link at the top and get clickin!
who wouldnt want to wake up to this???
you know just chillin with my aunt ee
hi ! meet my new horse Steel

and i leave you with the best ever! its not a purse.....
its a satchel, you know Indiana Jones had one!
Who let the dogs out who whowho who!